Lake Tahoe and Eagle Point Fishing Reports
View Latest Tahoe Fishing Report Here!
Before you go fishing in the Lake Tahoe area, check here for recent reports from Eagle Point Sport Fishing and other anglers!
Please share your recent fishing experience and Submit a Report.
To discuss fishing in the Lake Tahoe area, or to post a question, please use the contact form.
Post Lake Tahoe (South Lake Tahoe, North Lake Tahoe, Eagle Point, etc.) fishing reports here. Be sure to include fishing location, time of day, lake conditions, Depth, depth that fish were caught and of course what you caught. GOOD Fishing to all in 2015!!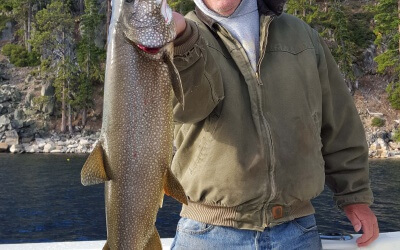 Date: 8-30-2015 Location: Lake Tahoe Time Observed: 8 am Water Conditions: Very windy this morning rough waters. Report: Capt. Dennis & son Capt. James of Eagle Point Sport Fishing went out to catch bait this morning for up coming trips. While waiting for bait Both Dennis & James landed and released a couple nice Lake Trout. Good fishing too all, Eagle Point Sport... read more